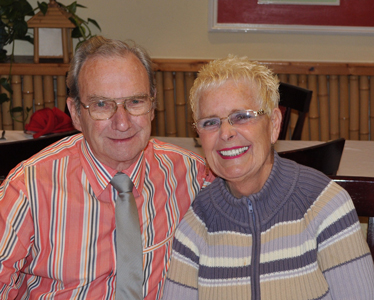 Frank & Margaret Wildman
Wildax started in 1961 when Frank and Margaret married as not long after this they started to breed Boxers In the 1930s and 40s Franks parents bred Wire and Smooth Fox Terriers, Dachshunds and later Boxers under the Denman affix and in the early days were a big influence on the newly weds. They pushed the young couple in the right direction and supported and encouraged them greatly, always stressing the necessity to breed well.

They placed great emphasis on character and the need to only keep sound dogs of excellent temperament, an indication or evidence of which was the working ability of the dog. Franks father was a stockman of the old school and did not advocate spending valuable time, effort, or indeed money on any animal however good if the character was suspect. Living in the same neighbourhood as Franks parents in the early days enabled the young couple to take advantage of all the help and advise on offer, they were able to breed a litter safe in the knowledge that help was at hand if needed and it often was. This practical advise on whelping proved invaluable for Margaret in the beginning and Pops always said she took to dogs "like a duck to water" He would spend many hours explaining to her why one dog would be preferable to another if a bitch was to be "serviced" and it was he who started her on the path she was to follow, and along with husband Frank, love for the next 55 years, in which time they have bred Champions in seven breeds and CC winners and championship first prize winners in many others.
In 1982 Margaret and Frank bought Aintree Lodge, a 17th century gate house in the ancient village of West Derby in Liverpool, which is situated in the famous Croxteth Country Park that surrounds Croxteth Hall. This stately home, once belonging to Lord Sefton and now open to the public, is kept in a state of outstanding excellence well befitting his Lordship today. Our royal family especially when visiting the races at Aintree often frequented the magnificent Hall dating back to the 17th century. The impressive Mansion, stables, ponds, walled garden and immaculate grounds are acclaimed by all who see them; they make any visit memorable and are often used by TV and film companies when making period dramas such as The Forsythe Saga. It is a beautiful sight to see the Wildax dogs of whatever breed running free in the woods, nature trails and open fields of this beautiful Park. Margaret and Frank adore their surroundings and place great value on living in such a dog friendly environment in the centre of the wonderful city of Liverpool.